It's Stroke Awareness Month, and with the former news of Luke Perry dying from a stroke at the age of 52, we wanted to share some important stroke information with you. If you or someone you know is experiencing any of the symptoms listed at the end of this article, call 911 or bring them to Surepoint Emergency Center immediately. We are a full-service emergency center equipped to handle strokes, heart attacks and other major emergencies. Go to surepoint-er.com/locations to find the nearest location.
What is a Stroke
A stroke occurs when a blood clot blocks an artery, or a blood vessel breaks and interrupts blood flow to the brain, causing cells in your brain to die. It can cause difficulties in speech, movement or memory. Strokes may cause death. According to the CDC, stroke is the 5th leading cause of death and a leading cause of disability in the United States. About 795,000 people in the US have a stroke each year.
Risk Factors for Stroke
A stroke can happen to anyone, however there are some risk factors that can increase your risk for stroke:
Age
Gender
Race (African-American and Hispanic, men and women, are at higher risk)
Family history
Atrial fibrillation (AFib)
History of transient ischemic attacks (TIAs)
High blood pressure
High cholesterol
Heart disease
Diabetes
Sickle Cell disease
Unhealthy diet
Physical inactivity
Too much alcohol
Tobacco use
1.9 million brain cells die every minute during a stroke – Stroke Awareness Foundation
Possible Prevention of Strokes
 You may be able to prevent a stroke or lower your chances of having a stroke by:
Maintaining a healthy diet
Maintaining a healthy weight
Physical activity
Stop smoking
Limit alcohol intake
Stroke is a medical emergency. Do you know the warning signs? Use the F.A.S.T. acronym below to quickly identify stroke. Surepoint Emergency Center is here to answer any questions or concerns you may have.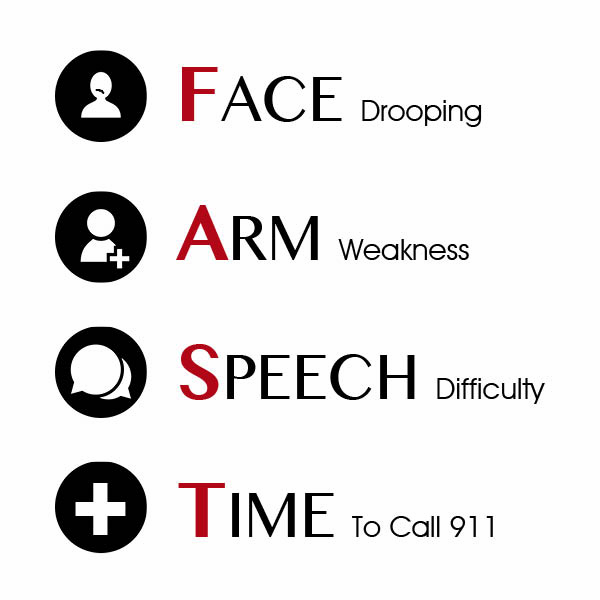 ---
Surepoint Emergency Center  is a modern emergency medical facility open 24/7. As an alternative to the traditional hospital ER experience, we offer convenience and minimal wait time, along with highly-trained emergency medical staff and state-of-the-art equipment.
Our top priority is bringing high quality emergency care, quickly and easily to your family. We are committed to making patients feel better faster in a comforting and compassionate environment.
Fast, convenient care in your neighborhood.
Please follow and like us: